Patients Tell Us
Praise from our Patients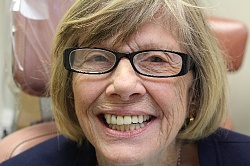 I love my new smile!
Posted on 12/17/2014 at 10:20 am Viewed 1,448 times
Thank you Dr Granger I love my new smile! You are the best! -Barb Bertrand
It's not what we say but what our patients say that illustrates the quality of the Granger DDS, dental experience.
Stress-Free
"If you have dental phobia, this is the most stress-free and pleasant experience you can have. Kudos to Dr. Granger and staff."
A Comforting Dentist
"After several years of not being to the dentist because of my fear, Dr. Granger and his staff were able to change my mind. They are a fabulous team.  They make you feel very comfortable and Dr. Granger takes the time to listen to your needs and fears."
Grateful
"I do not have any suggestions for improvement. I am just grateful to have them."
Wonderful
"I had a wonderful experience!"
A Loyal Patient for 30 Years
"I have been a patent at this office for 30 years and it has always been great!"
I Would Recommend Him to Anyone
"I recommended Dr. Granger to my mom, so I would recommend him to anyone!"
Join Us!
Join the thousands of delighted fans who look to Dr. Granger and his team for a great dental experience.